With the rapid advancement of machine automation and construction technology, so long are the days of hammering grade stakes and correcting costly mistakes. Although there are numerous benefits of machine technology, including increased accuracy, efficiency, and safety, implementing new, unfamiliar technology within your job site can be intimidating. After making the investment in automation, you want to be sure you are getting the most from your machine's technology.
One way to be sure you are taking advantage of all your technology's features and benefits is to work with a 3D construction site model.
The Benefits of a 3D Construction Site Model
A 3D site model has become an important tool used throughout the entire project lifecycle for heavy and civil site contractors, asphalt contractors, landscapers, and general contractors. Prior to breaking ground, a model can help estimate costs and support the constructability review while giving you a clearer idea of what the site will look like upon completion. Working with a model can increase productivity, fuel efficiency, and competitiveness. When the 3D model is uploaded into your equipment's computer or data collector, your machine will precisely grade and excavate according to the model, making it easy for operators to stay on schedule and accurately follow the design plan with fewer passes. You can also avoid rework, optimize material usage, and reduce labor costs.
Minimizes rework
Accuracy in fewer passes
Reduces labor costs
Fuel savings
Supports constructability review
Optimizes use of materials
Helps maintain project schedule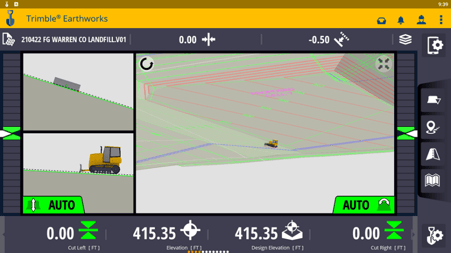 Site model uploaded into a dozer's Trimble machine control technology.
How is a 3D Site Model Created?
The model creation process begins by gathering the designer's CAD files and paper plans. An experienced modeler reviews and compares the files. If any details are missing, you will receive a request for information. The modeler then cleans the CAD files of drafting errors, and the information is re-layered and color-coded so the linework can be easily seen and selected for stakeout in the field. After the CAD file is cleaned, a layout map and a 3D finish-grade surface of the project is produced. The layout map and grading surface are then loaded into your equipment's machine control technology or data collector. The machine will then precisely dig and grade according to the plan. Sub-grade surfaces can also be developed for roadways and other projects where the sub-grade doesn't mirror the finish grade. After the project is completed, the site model can be archived and referred to if the site needs to be modified or expanded.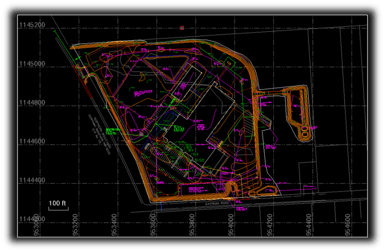 Site model of new Milton CAT location in Cicero, NY.
Not All Models Are The Same
While numerous advantages come from working with a quality, error-free site model, an inaccurate model can negatively impact your operations and does not allow machine control equipment to work properly leading to rework and frustration. Tri-Point Construction Layout prides itself on being detail-oriented since creating an error-free model requires careful attention. "A model made quickly may not be made well," commented Tri-Point General Manager Chris Constantine. "It is important to get referrals for modeling companies that take their time to do it right."
To learn more about utilizing a 3D site model with your machine's technology, contact the experts at Tri-Point Construction Layout.