If you've been in the construction industry for a while, you know the used equipment industry has changed significantly. Pre-owned machines went from being equipment for self-starters to the talk of the trade. So, what happened and is used equipment really worth the hype?
As a result of the manufacturing setbacks due to the global COVID-19 pandemic, the demand for used equipment grew rapidly to an all-time high. New machines were few and far between so equipment buyers turned to readily available, pre-owned machines and they quickly realized the advantages, so much so that the industry is projected to reach a $1.98 billion valuation by 2028. *
If maintained properly, equipment can have a long, profitable life and be resold multiple times. This means there is a wide selection of used machines available, so you are likely to find the right machine at the right price when you need it.
While shorter lead times and a large selection are huge benefits of buying used equipment, the lower upfront cost is typically the deciding factor. Used equipment is significantly less expensive than new equipment because the major depreciation loss has already happened. When buying new equipment, a large portion of the price tag accounts for the newness of the machine. The value of a new machine immediately drops once it leaves the dealership yard. Although the value will continue to dimmish over time, the greatest depreciation loss occurs within the first two years of a machine's life. By buying a pre-owned machine, you can avoid that loss and still get a quality machine. You'll also enjoy reduced insurance rates.
Although the benefits of buying used equipment may seem obvious, it is still important to consider both new and used options so you can make the best decision for your business' needs, goals, and budget. Key questions to ask yourself when deciding between new or used equipment are "What is the application?" and "What will get me the greatest return on my investment?" If the machine is going to be a primary machine that you rely on every day, you may want a new machine that you can put thousands of hours on. If you are purchasing the machine for specialty jobs or as a backup, you may not want to spend as much money on a machine you will use infrequently. When calculating potential ROI, be sure to include productivity and the factors that will affect it. If your operator is already familiar with the controls of an older used machine, you will be able to reach peak productivity sooner because there won't be a learning curve. If you are short on labor, buying a new machine equipped with technology may be the solution.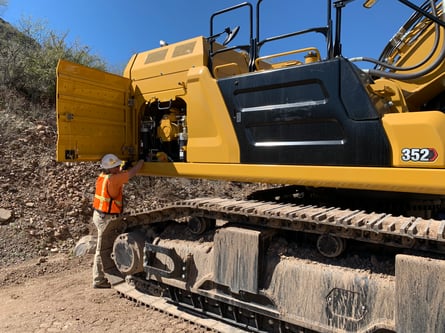 Once you've decided that a used machine is the right choice for your operation, it is time to decide where you'll buy it from. With the unprecedented demand for used equipment, many sellers have gotten into the market and not all can be trusted to provide accurate listings and histories. Unlike certified used equipment dealerships that ensure the quality of their used equipment through detailed inspection, used equipment listings on online marketplaces like eBay, Craigslist, and Facebook aren't verified for legitimacy and the machine may arrive with costly undisclosed issues. In addition to peace of mind, certified used machines typically come with the machine's full service history, operating and maintenance manuals, a warranty, and the most recent maintenance completed.
* Arizton Advisory & Intelligence. "U.S. Used Construction Equipment Market- Strategic Assessment & Forecast 2022-2028." www.arizton.com/market-reports/united-states-used-construction-equipment-market. Accessed 18 July 2023.