The Caterpillar CG260-16 combined heat and power (CHP) system at Brigham and Women's Hospital (BWH) in Boston recently reached 50,000 operating hours with a 96% uptime making it one of the longest-running CAT CG engines in the Northeast. One hundred percent uptime is not possible since the hospital is required to purchase a set minimum from Boston's main power grid each month. Since its commissioning in 2017, the CHP system has served as a prime power unit providing 4MW of continuous electricity to power and heat the Hale Building for Transformative Medicine and the Shapiro Cardiovascular Center.
A CHP, also known as cogeneration, system generates electric power and captures the heat that is created through the power generation process. Thermal energy from the waste heat is then used to produce steam for heating the building and its water. CHP systems are gaining popularity thanks to their environmental and financial benefits. Grants, tax incentives, and low-interest loans are available for CHP systems since they have lower emissions and use less fuel than separate heat and electrical generation systems. With CHP, electrical bills are more predictable as the price of natural gas is historically more stable than electricity.
Consisting of a CAT generator set, heat exchanger, three boilers, and a control panel, BWH's CHP system requires a team to keep it running. Vicinity Energy, an energy infrastructure operation and maintenance company, maintains the system with support from Milton CAT. Chris Doyle, Vicinity Energy Regional Manager of O&M Projects, explained, "Uptime is critical for this operation, and there are several components to keep track of. We need to stay proactive and think long term, and having a partner that shares this mindset is crucial." Vicinity Energy and Milton CAT work closely to ensure the system's longevity. At its inception, a long-term service agreement (LTSA) was established to optimize operations. The LTSA covers all preventive maintenance and emergency service visits. The system is constantly monitored through a remote monitoring system, and the plant is staffed around the clock to ensure a smooth operation. To keep the system working at peak performance, Milton CAT service technicians perform preventative maintenance every six months during a period of planned downtime. The preventative maintenance tasks are strategically scheduled to reduce costs and ensure the downtime is used most efficiently since power from Boston's main grid must be purchased when the system is down. If emergency service is required, Vicinity Energy can request service through a direct, dedicated Milton CAT phone line. "It's comforting to know that if we experience issues, we can count on Milton CAT to quickly respond no matter what time it is," Chris added. Milton CAT also supports BWH's CHP system with parts. Frequently used parts are stocked on-site or at the nearby Milton CAT facility.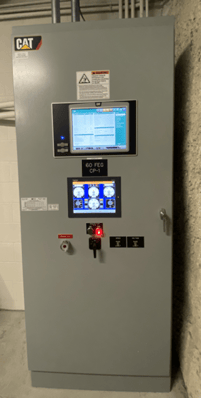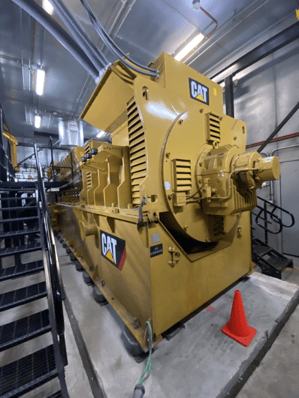 Located five floors underground in the Hale Building's parking garage, the virtually undetectable CHP system lives in a sound-attenuated enclosure with vibration prevention which is important for the proper functioning of medical equipment such as MRI machines. The 12-story Hale Building for Transformative Medicine features outpatient care clinics, research laboratories, and an imaging facility. The 10-story Shapiro Cardiovascular Center is home to numerous operating suites, inpatient rooms, and an intensive care unit. Partially thanks to the efficient CAT CHP system, both facilities have a low carbon footprint and received a LEED certification.
Reaching 50,000 operating hours was a proud moment for the team. "Everyone involved in the maintenance of BWH's CHP system is giving 150%, and it's extremely rewarding to see that hard work pay off with such a high ROI," explained Don Bannister, Milton CAT Energy Solutions Account Manager.
To learn more about combined heat and power systems from Milton CAT, click HERE.